A weblog about the politics and affairs of the old and glorious City of Albany, New York, USA. Articles written and disseminated from Albany's beautiful and historic South End by Daniel Van Riper. If you wish to make a response, have anything to add or would like to make an empty threat, please contact me.
---
November 17, 2006
Buying Books at The Armory
Oh, do not ask, "What is it?" Let us go and make our visit.
This past Sunday morning (November 12) I went to the 33rd Albany Institute of History and Art Antiquarian Book & Ephemera Fair at the Washington Avenue Armory.
If you've never been to one of these fairs, and you like to read books, then I can highly recommend this event when it returns next year. Some fifty five vendors this time, mostly sellers of books, rented space and presented their volumes for public consumption. For five bucks you can spend the better part of a day among quality secondhand books of all description, from the inexpensive bargains to the extraordinarily rare.
The atmosphere is relaxed, and most of the vendors are pleasant and ready to chat. A number of them are fairly local regulars, like Lyrical Ballad of Saratoga, or Owl Pen which is located somewhere out in the wilderness around Greenwich. But many of the vendors travel quite a distance, it's not unusual to spot addresses from Nova Scotia, Virginia or Ohio.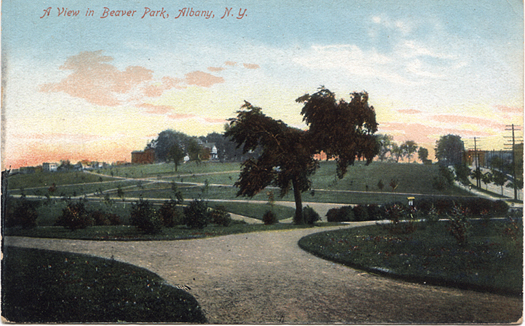 Lincoln Park About 100 Years Ago
And oh yes, there were a handful of ephemera sellers. Ephemera is a word you see mostly at book fairs. It describes the valuable old paper doodads that get sold at book fairs other than books. Mostly this means postcards, photos, prints and the like. (If you read the misleading article in the Monday Hearst Times Union, you would think that this was almost exclusively an ephemera fair. Didn't the content provider who wrote the article notice the row upon row upon row of books? I wonder why his editors instructed him to do that. Maybe they hate books.)
Of course I loaded up with books, but this time my real finds were indeed ephemera. My first big score was at Lyrical Ballad, where proprietor John DeMarco sold me eight postcards of the sights and attractions of Beaver Park from about a hundred years ago. "I've had these forever," he told me. "I've got two more boxes of postcards that I didn't bring." The cards were a dollar apiece.
"So," you may very well ask, "where the hell is this Beaver Park?" Why, that's the original name of the lovely South End park practically right outside my front door. It was named after the now underground river that runs down the middle of it, the Beaverkill. At some point in the early 20th Century the name was changed to Lincoln Park, in honor of the last honest Republican.
My other great ephemera find was sold to me by Dennis Holzman, who has a shop down the street from the Armory on the second floor of 250 Washington Avenue. Inside one of his banker's boxes of folders, I found snapshots made by an out of town visitor of the big 1913 flood in Albany. Many of the pics had penciled captions on the back.
I needed these to visually break up my long ponderous article posted August 26, which is about Lake Sacandaga and the much smaller and less damaging Albany flood of 2006. The piece included a bit about the 1913 flood, which spawned a cholera epidemic that led directly to the creation of the Great Sacandaga Lake, which was filled with water in 1930.
Since then the lake has been used faithfully to prevent flooding on the Albany waterfront. That is, until about seven years ago when the State privatized the power generators on the dams and entered into a ruinous agreement with the power speculators. to keep the private power producers profitable, the lake has to be kept overfilled all year round. And that's why Albany's waterfront flooded this past summer. Thanks, George Pataki. And don't come back.
Check out the rowboat on South Pearl Street. I wonder how people survived, how they got by while the water remained high. And I wonder how long it took to pick up the mess and fix the damage. Did the State and City authorities fail the South End the same way the Federal government failed New Orleans a year ago? Or did the authorities step in and take responsibility like they're supposed to?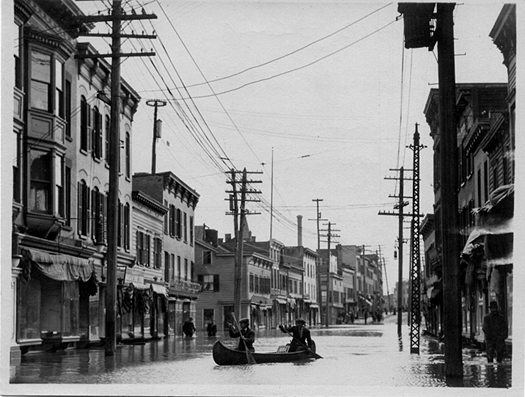 South Pearl Street, 1913
I picked out the best of the snapshots. Mr. Holzman is not a purveyor of bargains. His wares are usually quite nice, but they don't come cheap. Still, he very graciously knocked a little bit off the sale price.
I've found that it pays to ask the vendors for a discount at these fairs. More often than not, they are more than willing to give a discount, particularly at the end of the day, and particularly if the item is a large and heavy book. These folks will readily tell you that the last thing they want to do is lug their book boxes outside to their vehicles and back to their stores. The smart book buyer keeps this thought in mind.
Four years ago, at this same event, I wore my "Patriot" t-shirt for the first time, which spells out the word PATRIOT: People Against Tyranny Racism Injustice Oppression & Truth bending. On the back is a Liberty Bell with the words, "Patriots Act." The times being what they were, the t-shirt attracted a lot of comments and stunned attention. I asked one vendor for a discount on one of his books. He said "No, but I'll give you two bucks off because I like your t-shirt."
Most everything for sale on the floor of the Armory was within striking distance of my cash reserves, but there were a few books that had to stay under lock and key. This is serious collector stuff, signed first editions. Oh, they were nice, but totally out of my reach.
I stared with amazement into a glass case at the booth of a New York City vendor, B & B Rare books. Proprietor Joshua Mann had a first edition of Lolita by Nabokov for a mere $3600, and first of Pooh by Milne for $11,000.
But the real prize in the case was a 1917 first edition of the great poem Prufrock by T. S. Eliot. Here in front of me was one of the few remaining examples of the original printing of a solid contender for the title of greatest piece of writing in the English language. It was mine if I wanted it... for only $45,000.
You know, The Wife and I paid less than that for the house that we live in. But oh, it was lovely. Mr. Mann was more than happy to take it out of the case and show it to me. "Don't let me touch it," I said. "I might get it dirty or drool on it."
He laughed and opened it for me. The cover was a bit stained, but the interior stock (paper) was thick and not at all yellowed. "Only 300 of these were printed," he said. "This copy was owned and signed by a close family friend, and came from a collection in England. A copy signed by Eliot would fetch $60,000 or more, depending on condition."
A very small part of me wanted to grab it out of his hands and run as fast as possible. "You'd better keep THAT under lock and and key," I said, Mr. Mann readily agreed. I noticed how he carefully replaced the slim book, carefully locked the case and carefully pocketed the key.
This was the first time I had been inside the Armory since it was renovated. I recall walking inside many years ago and not wanting to ever go back. It was dark and dingy, quite rundown.
But the now defunct Patroons basketball team loved to play there, as did all the other teams in the league. It seems that they all liked the intimate atmosphere of the Armory, the closeness of the fans to the action. This was lost when the Patroons moved to Jim Coyne's gigantic ugly Coke (soon to be Hearst Rag) Arena downtown. The intimacy was lost, and it was no coincidence that the Patroons left town and folded a few years later.
But Jim Coyne the gambler bounced back from his public humiliation over the financing of his ugly Coyne Box and found investors for the Armory. It looks great now. Even though it only has a capacity of three thousand, it plays host to a steady stream of sold out concerts, and it hosts a new basketball team. And of course, the book fair.
Inside the front door, the stairways on either side have been refinished in brown stain. Inside the main floor is brightly lit, and even the roof girders above look brand new. The bleachers also look new, made of shiny aluminum. All the vendors I talked to or overheard agreed that they would be very happy to come back to this venue next year.
Overall, business was good. Only the food vendor looked forlorn and unhappy when I purchased a turkey wrap and a coffee for my late breakfast a little after eleven. "It's been slow," the lady said. That was an understatement. I had just scored my postcards and photos, and was taking a well deserved break. No one else seemed to be interested in food and drink.
This was her first time at this event. "We're hoping it picks up later," she said, trying to smile and not look angry. I didn't ask her if she would come back next year.
Prior Post * * * Next Post
---
This site maintained by Lynne Jackson of Jackson's Computer Services.