A weblog about the politics and affairs of the old and glorious City of Albany, New York, USA. Articles written and disseminated from Albany's beautiful and historic South End by Daniel Van Riper. If you wish to make a response, have anything to add or would like to make an empty threat, please contact me.
Turkeys Trotting In Troy
It's a modern parade, the annual Thanksgiving Day road race in Troy

Once upon a time, every small town in America held parades. These were often patriotic affairs, such as the Fourth of July, Memorial Day, Veteran's Day and the like. Sometimes these parades were about heritage, like Columbus Day, St. Patrick's Day, or Labor Day.
These parades were celebrations of urban public space, where citizens would gather and cheer in honor of the things that were most important to them. Not so much any more. True, they still hold these old time parades, but who goes to these things? A few folks still do, but undeniably the traditional parade is dying out.
There is a new kind of parade, one devoid of traditional spectacle and lacking in political or ethnic affirmation. But for all that has been lost, the new parade is utterly democratic since almost anyone can participate. And it is considered beneficial to the parader's health and well-being. And the new parade does indeed celebrate civilized public space.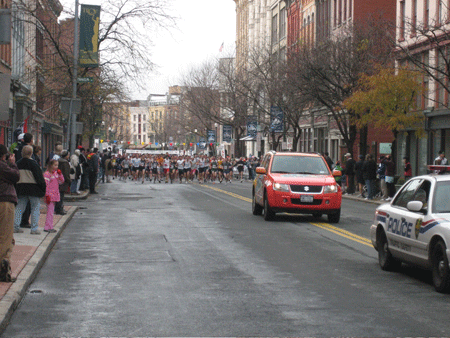 10k Takes Off At 10 AM, Police And
Press Car Precede The Runners
Every year, thousands of people run the the Turkey Trot through the streets of Troy on Thanksgiving Day. The first Troy Turkey Trot did indeed take place back in 1916, but petered out before 1936, apparently for lack of interest.
In 1964 the race started again, tentatively. It was in 1972, when the idea of running for health through public space became popular, that the Turkey Trot began again in earnest. That was also the year when the shorter five kilometer (5k) race began, and this Thanksgiving Day running parade has continued without a break ever since.
Most of the thousands of participants run the 5k race. During this race the streets are packed wall to wall with people moving in one direction, sneakers thumping the pavement and elbows pumping side by side. That race is only three point one miles. Why, anyone can do it.
10k, Here They Come
This year The Wife moved up to the ten kilometer (10k) race, which is run after the 5k. The 10k is six point two miles. Fewer people run this longer race, only hundreds. She's running with the big kids now.
The morning and night before the race, The Wife was full of such stuff as, "I don't think I'm ready for this. I might have pulled a muscle in the back of my leg. I'm not going to able to finish. If I finish I'm gonna be last. I must be nuts to do this."
This would be the second time in her life that she's run a 10k race. The first was the Troy Turkey Trot two years ago when she finished 559th in a field of, um, 559. But hey, she ran it and she finished, which is more than I ever do.
Last year around this time she had a lousy knee, tender tendons and evil spirits living in her sinuses. So she barely managed to join the crowds and run the 5k, finishing 2702 in a field of 2780.
This year she had no physical reason not to run the 10k, so I was able to talk her into it. Also, a couple of her friends were willing to run with her and share the triumph. And despite all the negative reinforcement she gave herself beforehand, she did NOT come in last. Far from it.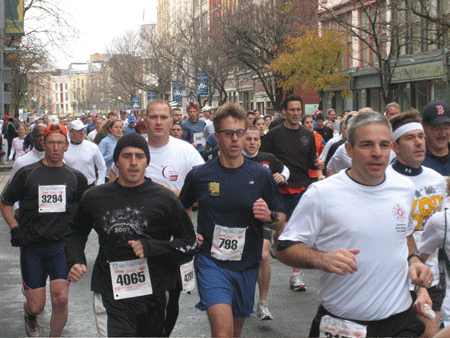 Here They Are
We carpooled up to Troy with our friends Sandra Camp, who was ready to run, and Sandra's husband Dave, who was ready to join me on the street corner and watch. Sandra was relaxed but downplayed her prospects, hoping to complete the race in under an hour. She's used to running on the sand in the Pine Bush, running on asphalt is easy for her.
We ditched the car about three blocks away and us guys left the ladies at the starting line to get ready. We took up position at a strategic corner one long block away from the start, from which we could observe the runners leaving and returning. Also, there were fewer spectators up there to get in the way.
So we watched the parade take off, and then the street was empty. We had a bit of time to kill but not too much.
It was less than thirty minutes when the winner came into view and rounded the bend to the home stretch. There was no one in sight behind him. This guy was good, he didn't even look like he was giving it his all.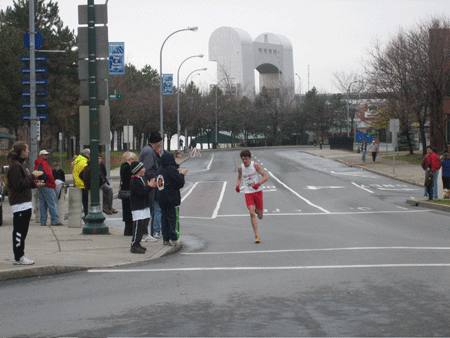 The 10k Winner
I've never understood why men run faster than women. After all, it's really a question of endurance, which women excel at. The first woman came in about fifteen places back.
| | |
| --- | --- |
| | |
| Here She Comes... | ...And There She Goes |
I've observed that the runners in these foot races tend to bunch up the same way as auto traffic on the highway does. But unlike the mechanical autos, the human beings tend to sort themselves into groups of relaxed runners and exhausted runners. This is all very mysterious, but I figure this has something to do with how hard individuals push themselves versus how healthy they happen to be.
Now Dave, who was standing with me, was getting worried that Sandra wouldn't arrive at the finish line in under one hour. He seemed more concerned about her time than she was. But she made it with about five minutes to spare.
Sandra claimed that she pushed herself hard, even to the point of becoming nauseous. But this photo below, taken as she rounded the corner into the home stretch, demonstrates that she was really having a swell time.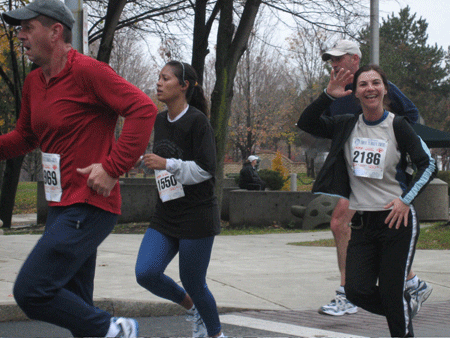 Sandra At Right, Allegedly Suffering
Dave took off after Sandra toward the finish line, leaving me alone on the corner to wait for The Wife. Eventually they returned with Russ Ziemba, dedicated activist and occasional candidate for the Troy City Council. Russ had finished the race stripped to the waist, he had crossed the finish line bare chested. "I wish I'd gotten to see that," said Sandra.
While we waited for The Wife, Albany dancing master Paul Rosenberg danced up to us. It turned out that he had run both the 5k and the 10k, and looked ready for more. But he hadn't officially entered either race, he was a "pirate." "I've done this ever since they raised the fees," he said. "What do they need money for, anyway?"
Finally, The Wife arrived. We all on the corner cheered ecstatically as she trudged into the home stretch like lightning. I trotted after her snapping pictures and shouting encouragement.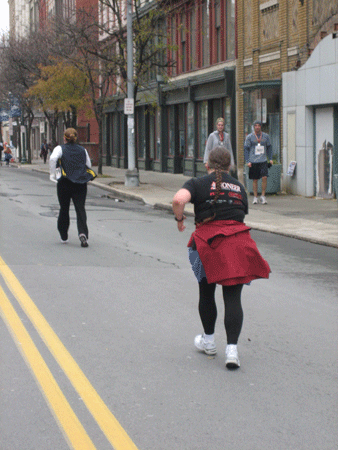 The Wife, In Front. There She Goes!
Like I said, a handful of stragglers came in after The Wife. At the finish, she felt good, pumped up, happy. "I can't believe I did it," she said. Well, of course she did it. And she'll do it again, running farther and faster.
What The Wife likes most about the Troy Turkey Trot is that everyone gets a medal, even if you come in last. Everybody wins! Hooray!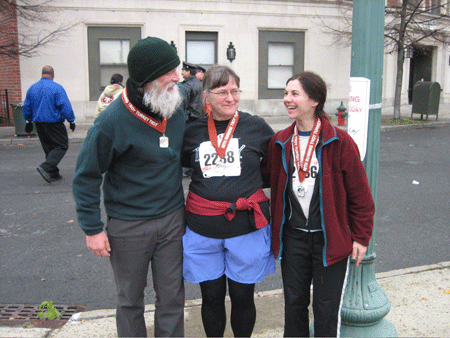 Russ Ziemba, The Wife, Sandra Camp Are Winners
At the 10k Turkey Trot two years ago, when The Wife came in dead last, it had started to rain. Almost everyone had gotten off the street, including the people who gave out the medals. The Wife was having none of it, she wanted her medal.
So I followed along as Russ and The Wife marched into Troy City Hall and cornered the race officials, who were getting ready to leave. A City employee was located, and the box of leftover medals was dug out of a closet full of jumbled stuff. The maintenance guy solemnly awarded the two of them their medals.
Some things are too important to let go.
To see more photos of the 2007 Troy Turkey Trot, click here.
Prior Post * * * Next Post